Contact information for other Vatican offices or dicasteries
Sacred Congregation for the Doctrine Faith
Archbishop Gerhard Ludwig Müller
Sacred Congregation for the Doctrine Faith
Piazza del S. Uffizio 11
00193 Rome, Vatican City

Sacred Congregation for Bishops
Archbishop Lorenzo Baldisseri
Sacred Congregation for Bishops
Piazza Pio XII 10
00193 Rome, Vatican City
Sacred Congregation for Divine Worship
Cardinal Prefect Antonio Cañizares Llovera
Sacred Congregation for Divine Worship
Piazza Pio XII 10
00193 Rome, VATICAN CITY
E-mail address for the Vatican Newspaper: L'Osservatore Romano

If a creditable Vatican insider/visitor can confirm this information or send me further valid contact information for contacting the Holy Father or one of his (Cardinal|Bishop associates) in the Vatican Press Office or another dicastery for Social Communication whether by phone, e-mail, or fax, it would be appreciated.

This page is one of the most visited pages on my site and, if possible, I would like to have good contact information. I can be reached here: mike.hump@comcast.net.
For those visiting this page please keep me in your prayers as I am financially poor.
Mike Humphrey,
Web Administrator of:
---
Papal Phone and Fax information and other helpful information shared by visitors:
The Vatican Press Office is considered the official means of e-mail contact for the Holy Father.
phone: +390669881022
fax: +00390669882417
An e-mail from a visitor that you can reach him.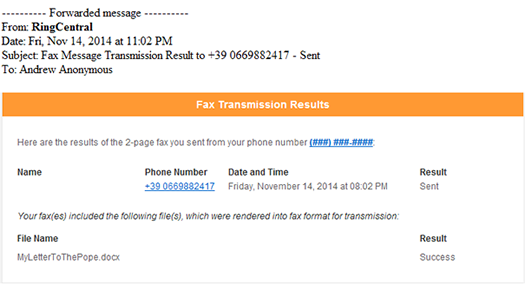 Press Office Mailing Address where incoming calls/faxes are received:
Pontificio Consiglio delle Comunicazioni Sociali
Palazzo San Carlo - 00120 Città del Vaticano
IMPORTANT: When sending mail to the Holy Father do not place the word Italy on the envelope.
The Vatican is an independent nation and Italy's mail system routinely mis-routes mail addressed
to the nation of Vaticano. Just thought you would like to know this.
Mike
From others who have e-mailed me on this issue.


Diane F. wrote:
I just called the Vatican Switchboard and the fax number they gave me to send a fax to His Holiness, Pope Francis is: 00390669882417. I don't know if this is an update for you or what. I hope this is helpful.

I also learned at the Post Office that in order to send a letter to the Holy Father via Global Express Guaranteed which goes through Fed Ex Express, you need a phone number for someone where the letter is sent. It was going to cost around $65.00. Whoever I spoke with at the Vatican said it is best to send the fax.

Thank you for your website. It is very helpful.

From another Catholic. God bless you!