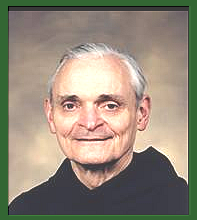 My good conversational friend, Brother Gregory Conant, O.S.B. died peacefully on July 23, 2015 at Saint Benedict Abbey, Still River, Massachusetts, after a lengthy illness.
I personally knew Brother Gregory before, and after, he was a professed monk at St. Benedict Abbey in Still River, Massachusetts. His engaging conversation in various areas of Church history as it related to various teachings of the Church was something no other consecrated religious will ever come close to. If he wasn't talking about history, he was talking about Popes and Catholic Councils and the effect they had on society and the world for a specific period of time.
This was a unique Benedictine monk! . . . no doubt!
His love for the Church and Church history had an important impact on my life for which I am grateful.
Requiescat In Pace, my friend!
December 6, 1927 to July 23, 2015
Mike Humphrey
(Read his obituary here.)