Ken,
This is what the word means:
1650 εἰς (eis): prep.; ≡ Str 1519; (TDNT) Theological Dictionary of the New Testament 2.420—1. (LN) Louw-Nida 84.16 (always in the accusative) to, toward extend to a goal (Matthew 21:1); 2. LN 84.22 into, extend into an area (Matthew 8:3; John 20:6); 3. LN 83.47 on, upon the surface of an area (Matthew 27:30; Mark 5:39); 4. LN 83.13 inside, within, in a location (Mark 5:3); 5. LN 83.9 among, with in a spacial area (Matthew 13:22; Acts 4:17); 6. LN 89.57 in order to, a marker of purpose (Matthew 8:4; Luke 2:32; John 18:37; 2 Thessalonians 1:5); 7. LN 89.48 so that, marker of result (Romans 1:20), note: purpose and result often are hard to distinguish; 8. LN 89.76 by means of, through, by (Acts 7:53); 9. LN 90.23 with reference to, concerning, with respect to; a marker of content (Matthew 28:19; Acts 2:25; Romans 16:19); 10. LN 78.51 to the point of, to the degree of (2 Corinthians 10:15); 11. LN 13.62 from … to; a marker of a change of state (Matthew 19:5; Luke 13:19; Romans 4:3); 12. LN 90.59 to, toward, for; a marker of an involved experiencer (Romans 5:8; 8:7; 16:26); 13. LN 90.41 on behalf of, for the benefaction of a person (1 Corinthians 16:1; 2 Corinthians 8:4); 14. LN 90.30 by, an object or area as the guarantor of an oath (Matthew 5:35); 15. LN 67.117 for, in, at; a marker of an extent of time (Luke 12:19); 16. LN 67.160 at, on, for; a marker of a unit of time (Acts 13:42); 17. LN 67.119 until, to, at last, at length; a marker of a continuous extent of time up to a point (Matthew 10:22; John 13:1), note: see LN index for a fuller treatment of the lexical units.

Swanson, J. (1997). Dictionary of Biblical Languages with Semantic Domains: Greek (New Testament) (electronic ed.). Oak Harbor: Logos Research Systems, Inc.
In the King James, this word is never translated because of: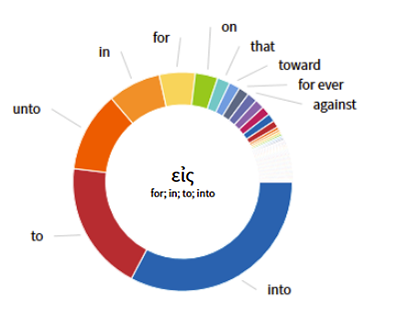 because of is a pure fabrication.
What about 1 Peter 3:18-22,
18 For Christ also died for sins once for all, the righteous for the unrighteous, that he might bring us to God, being put to death in the flesh but made alive in the spirit; 19 in which he went and preached to the spirits in prison, 20 who formerly did not obey, when God's patience waited in the days of Noah, during the building of the ark, in which a few, that is, eight persons, were saved through water. 21 Baptism, which corresponds to this, now saves you, not as a removal of dirt from the body but as an appeal to God for a clear conscience, through the resurrection of Jesus Christ, 22 who has gone into heaven and is at the right hand of God, with angels, authorities, and powers subject to him.
Acts 22:16 also says,
16 be baptized and wash your sins away.
Baptism was prefigured by the Israelites passing through the Red Sea. They were cleansed of the evils of Egypt by being baptized into Moses (1 Corinthians 10:2).
Ezekiel prophesied that we would be sprinkled with clean water to be delivered from our uncleanness and to receive a heart of flesh (Ezekiel 36:25-29). Likewise Zechariah 13:1 says,
1 On that day there shall be a fountain opened for the house of David and the inhabitants of Jerusalem to cleanse them from sin and uncleanness.
Ephesians 5:26, 1 Corinthians 6:11, and Titus 3:5 are all references to the washing action of Baptism. In Baptism God the Father says to us as he did to Jesus when he was baptized,
This is my beloved son with whom I am well pleased.
(Matthew 3:17)
because in Baptism we are made pure and clean and adopted as sons and daughters.
There are many more Scriptures but these are just a few.
Eric