Dear Cat,


You said:
I have inherited what I believe is a Catholic Cross from my great Aunt.
I am told it was precious to her but, sadly, I was never able to discuss it with her as an adult. Her faith was so important to her and I am trying to understand it, though I can't figure out what the inscription on the Cross means.
Embossed onto the arms are the letters: H B S M
Could you possibly tell me what this means?
We think Andrew was able to find an image of what is called a Celtic Cross.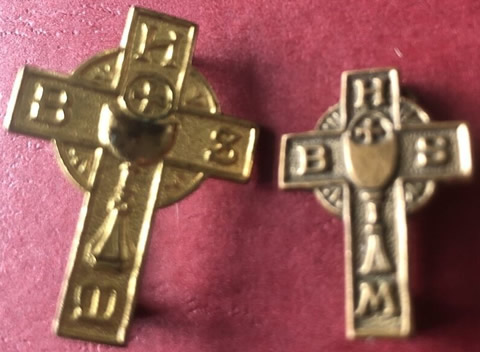 You can read more about it here on Wikipedia:
Note that at the center of the Cross is a Chalice showing the Blessed Sacrament which is consecrated at every Holy Mass which Catholics attend every Sunday.

The Eucharist (also known as the Blessed Sacrament) is the source and summit of the Catholic Faith.

Therefore, that inscription probably means, vertically then horizontally:
Holy Mass - Blessed Sacrament.
I'm not familiar with any Catholic customs, traditions, or devotionals where these letters were embossed into the arms, presumably of Our Blessed Lord.

I hope this answers your question,

Andrew and Mike